MAX'S BACKGAMMON PHOTO ALBUM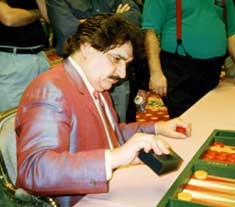 The late Michael "Max" Maxakuli was publisher of the Las Vegas Backgammon Magazine for a decade during the 1970s and early 1980s. Over the past 30 years, Max accumulated a treasure trove of people pictures from the days when the backgammon scene was an elegant way of life. With the advent of Snowie, "techies" dominate the game and style is a thing of the past. But as long as these photographs are saved, we will always remember the game at its most glamourous.
Thanks to Max as well as the following individuals who also submitted photographs which make up our 100 photograph library: Les & Sue Boyd, Kent Goulding, Joe & Rhonda Monro, and Nick Maffeo.
PHOTO ARCHIVES 1- 50
PHOTO ARCHIVES 51- 100