1994 World Backgammon Champion Frank Frigo discovered a new article that sheds light on the who, when and how regarding the introduction of doubling into United States backgammon. While performing a backgammon-related search within Google books for Grand Duke Dmitri, Mr. Frigo found an article that the rest of our modern day backgammon community had overlooked.
In the October 1931 Harper's Bazaar magazine, backgammon author Walter L. Richard wrote "The Backgammon Boom," an article about how the introduction of doubling and chouette play was fueling a rapid increase in the game's popularity throughout the United States "over the past two years."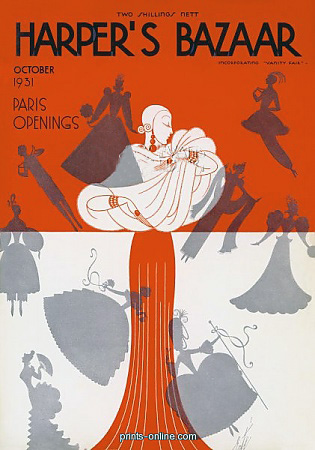 According to other respected backgammon figures of that era, Walter L. Richard was considered a very thorough and trustworthy individual. Harold L. Thorne (author of Backgammon in Twenty Minutes and Backgammon Tactics) called him "...the deepest student the game has yet known." Lelia Hattersley (author, How To Play The New Backgammon and Backgammon To Win) said about Mr. Richard's methods, "…intuition is set aside in favor of precise knowledge." A brief biography of Richard appears on the back of the dust cover of his Complete Backgammon (v1940), first published in 1931.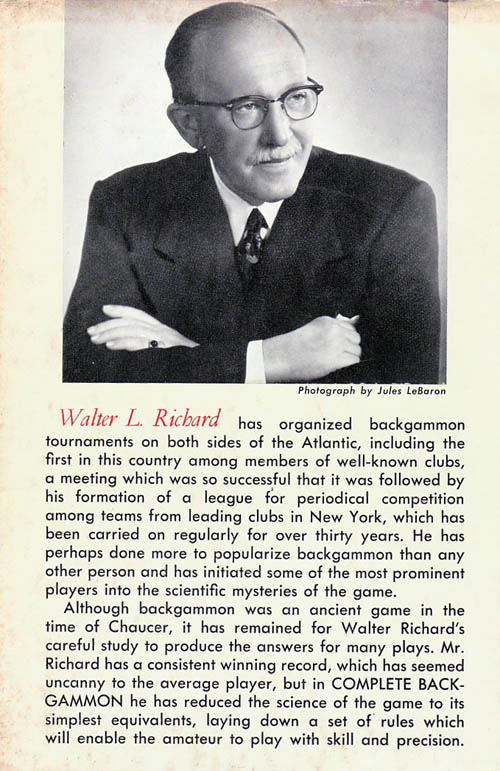 We don't know anything other than what we have read about Walter L. Richard. However, based on that alone, we believe Mr. Richard to have been a reputable man with no agenda other than to provide the most accurate historical doubling information possible based on what was known in 1931.
The following information can be extracted from Mr. Richard's October 1931 Harper's Bazaar article:
1. It is impossible to say who definitely originated doubling. Jean Nicolopoulo, described in 1930 as an outstanding backgammon enthusiast of the Travellers Club (Paris), said doubling was employed for years in the East before being tried in Occidental countries.
2. The first use of doubling in Europe (automatic or during play) originated in a game played in Paris in 1926 between The Grand Duke Dmitri of Russia and Aksel de Wichfeld of Denmark. Those two players reported that to them, their idea of doubling was original.
3. Messrs. Dmitri and Wichfeld induced other players at the Paris Travellers Club to adapt doubling and in about 1928, some Travellers Club players went to New York and introduced it to the Racquet and Tennis Club of New York City. Some of the friends of John P. Wemple declared that he was the first to show the new feature to them.
Mentioning Mr. Wemple makes sense as the book Racquet & Tennis Club: Some History and Some Memories (1964) by George Meade Rushmore credits him with introducing doubling into the Racquet and Tennis Club. Mr. Rushmore believes the introduction occurred in 1925, but based on what Mr. Richard writes, 1928 seems closer to the truth.
This article is a worthwhile read for any backgammon historian. Aside from the doubling information credited with creating the 1930 nationwide backgammon boom, readers will also learn some interesting historical chouette tidbits.
A PDF version of Walter L. Richard's "The Backgammon Boom" article from the October 1931 Harper's Bazaar is HERE.
In the near future, CHICAGO POINT will be updating the "Backgammon and Doubling: Just the Facts" article to reflect these new discoveries.